Chiropractor & Operations manager
Bob Leonard, DC
Location: Cleveland OH & Westlake OH
Dr. Bob Leonard brings his down-to-earth personality and lifestyle into everything he does, including chiropractic. For over 22 years he has focused on achieving the best possible results for each and every patient while maintaining a relaxed and comfortable atmosphere in the office.
His philosophy towards his patients is simple: "I treat my patients the way I would want my family to be treated at any other health care provider's office." He has instilled this in each doctor he hires which has allowed him to stop seeing new patients and focusing on growing his practice and helping even more people in the community.
Chiropractor & Westlake Clinic Director
Aimee Polgar, DC
Location: Westlake OH
Dr. Aimee is also a certified sports nutritionist and is passionate about helping the community feel and move better. She believes in looking at the patient as a whole and prescribing the best treatment plan for the individual and their goals.
She utilizes Palmer package, Thompson drop, is certified in both Basic and Advanced Activator technique, and is a certified "RockDoc" that uses both Rockblades and Rocktape (kinesiotape) with her patients. Dr. Aimee enjoys treating patients of all ages, including infants!
Chiropractor & Cleveland Clinic Director
Andy Ingram, DC
Location: Cleveland OH
Dr. Andy was raised in Vermilion. He went to undergrad at Baldwin Wallace and went to chiropractic school at Palmer, Florida. He utilizes Palmer package, Thompson drop, activator, treats soft tissue with RockBlades and RockTape, and utilizes functional movement/ rehabilitation with his patients. 
He is currently completing his certification for the Webster technique to help with pregnancy which came from a love of adjusting his wife and one-year-old daughter at least once a week. He is training for his first marathon! And loves to run, golf, sail, and spend time with his growing family.
Chiropractor
David Crawford, DC
Location: Cleveland OH
Dr. David Crawford was born and raised in Northern California's Bay Area. He attended Sonoma State University, where he earned his BA in General Biology, before moving to sunny Southern California where he received extensive massage therapy training (1350 hours) and earned his Neuromuscular Massage Therapist and Health Educator certification from the National Holistic Institute.
It was there that David discovered chiropractic and learned just how beneficial combining soft tissue therapies, like massage and chiropractic, could be. In January of 2017, David began his chiropractic training at the University of Bridgeport School of Chiropractic in Bridgeport, CT. He graduated in December of 2020, having not only been the class president, but also earning the Richard E. Vincent Leadership Award. An award demonstrating outstanding leadership among his peers.
As a longtime competitive athlete and as a CrossFit trainer, David understands the differences tailored chiropractic care can make in terms of athletic performance and recovery. With a focus on fostering functional movement in all areas of life, not just those in the gym or on the playing field, Dr. David works to make sure that his patients leave the office feeling better and more empowered than when they came in and strives to help his patients live and move pain-free whenever possible.
Westlake associate doctor
Ariana Stolar, DC
Location: Westlake OH
Dr. Ari was born & raised in the Westside of Cleveland. From a young age, she was passionate about health & wellness which led her to earn her Bachelors in Exercise Science from The University of Akron. After graduation, she attended New York Chiropractic College in Seneca Falls, NY where she unlocked her true passion for treating prenatal/postpartum patients!
Dr. Ari is Webster certified & enjoys helping her patients reach their full potential in regards to health. She understands the benefit chiropractic care has to the pregnant population as well as an athlete's performance. She is fluent in Ukrainian and English. She is an avid Crossfitter and loves to stay active in her free time.
Westlake associate doctor
Lydia Trabold, DC
Location: Westlake OH
Dr. Lydia, originally from Rochester, NY, obtained her bachelors in exercise physiology from WVU and made her way to Cleveland through a chiropractic internship. Here, she has found her love for the Great Lakes, outdoor life, exercise, and prioritizing a healthy lifestyle.
Dr. Lydia is trained in rehabilitation techniques and has a passion for chiropractic that she hopes to instill in everyone she meets. She is looking forward to continuing to immerse herself in Cleveland culture and finding her niche within the Westlake community. She enjoys treating people of all ages, shapes, and sizes.
Chiropractor & Strongsville Clinic Director
Joanna Consiglio, DC
Location: Strongsville OH
Dr. Joanna grew up in North Royalton, Ohio. She earned her Bachelor's degree in Biology from the University of Akron.
While in college, Dr. Jo developed a passion for weightlifting and distance running.
Understanding the importance of maintaining an active lifestyle, she was inspired to pursue a career as a Chiropractic Physician. She hopes to help her patients reach their full health potential and live their best lives.
Currently, she has run 7 marathons, including the Boston marathon. Aside from running, she loves to explore Cleveland with her Fiancé, Matt, and dog, Pancake.
certified integrative health practitioner
SHANNON ASBURY, MSN, RN, IHP2
Location: Cleveland OH & Westlake OH
Shannon is a Registered Nurse, certified Integrative Health Practitioner, and soon-to-be Root Cause Protocol consultant specializing in addressing and correcting dysfunction at the cellular level.  She is a Northeast Ohio native who loves her city and is passionate about helping her clients become the healthiest possible version of themselves! 
Shannon sees each client as being bio-individual and uses their personal background, goals, and resources to create unique protocols to achieve long-lasting and sustainable results.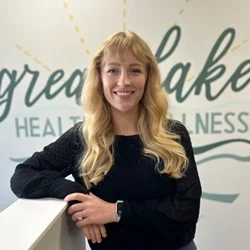 Functional Medicine Specialist
Madison Vidovich
Location: Cleveland OH & Westlake OH
Dr. Madison grew up outside of Philadelphia, PA, and has moved to North East Ohio, to be closer to her family! She attended National University of Health Sciences, where she earned a Doctorate in Naturopathic Medicine and Chiropractic, so she could specialize in Functional Medicine.
Dr. Madison also has additional training in the Webster Technique and enjoys treating prenatal/postpartum patients as a Chiropractor.
Outside of the office you can find her strength training in the gym, spending time hiking outdoors, or trying out new recipes to cook!"